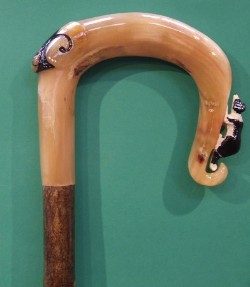 As mentioned else where on my website I have been planning to stop taking orders for and making rams horn crooks for some time now. Finally I have finished the last order I had for a rams horn.
It is time now to return to working on timber and create some more stock for the website Store. To begin with the plan is to make a few hard wood crooks, different timbers, some laminated others good old working ply crooks.
Then hopefully a few more carvings and possibly some buffalo horn crooks.
Need to get a move as the year is slowly ebbing away and before we know it the workshop will be freezing again, and the heaters will have to come out of retirement.
So please keep an eye on the Store page as we should have a few more new sticks for sale quite soon.