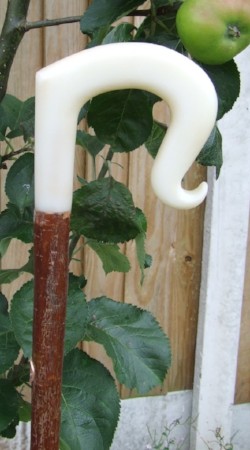 HDPE crook on a hazel shank. 52 incjes tall. Finished with a solid brass ferrule. Great first crook for a junior. HDPE is used in industry for all sorts of applications and is almost indistructable.
We decided to try this as a new material to make cheaper every day crooks and it seems to work very well.
Please note, when you click to buy this item you will see a " Out of stock " message. This refers to you buying the only available example on this listing and that no futher examples are available for sale on this listing. When you check your basket you will see your purchase there. Thank you.