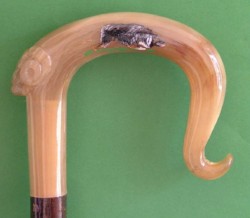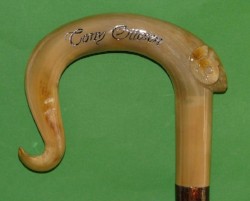 My old web site had many links to other related websites. Some stick making sites but mostly sheep dog trialing sites and sheepdog people sites. After my old website was hacked I lost all those links and recently decided to try and re connect with them
One such early site was that of Tony Ottesen, a sheepdog man from Denmark. I had not long opened my website and started making crooks for sale on the internet when Tony got in touch. Like many canny farmers he had come up with a scheme to get himself a new crook with out having to find any money for it. He asked if Wren Country Sticks would sponsor him by making him a crook and in return we would have a banner on his extensive website.
Ok we needed a bit of exposure as we were just starting out and he needed a crook so we agreed on the deal.
It was a good mutual deal and probably one of the nicest crooks I ever made. The horn worked well and I had no problems with from start to finish. To make it something special we carved the heel in the shape of a rams head and then painted a portrait of one of Tony's dogs on one side and engraved his name on the other.
Tony website like my old site no longer works but he has now a Blog at http://ottesen.wordpress.com